Latest Blog Post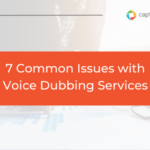 Our Clients Say
"Every time I think about the transition to CaptionLabs, I can't help but smile."
Bruce, The Word of Life Christian Center
"I am extremely pleased with the quality, the dependable turn-arounds, and a superb customer service attitude of the entire team."
Leigh, Living on the Edge
"This new method of providing daily programming to our networks and stations has been very successful."
Mark, Breakthrough with Rod Parsley
"It is rare in today's marketplace to find businesses with ethics like yours!"
Kathy, Florida Digital Studios