Choosing the wrong captioning company can hurt your ministry – here's what to look for

Choosing the right captioning company is crucial for closed captioning your church or ministry's video content. It makes content accessible to all members of your congregation and FCC compliant.
Many ministries make critical mistakes when selecting a captioning company. These mistakes can have negative impacts on their content and their budgets. To help you avoid these pitfalls, here are some specific tips to keep in mind when choosing a captioning provider:
Look for experience in religious content:
Captioning a sermon or religious service is a unique task that demands an understanding of religious language and context. To ensure quality, it's vital to choose a captioning company with experience in captioning religious content. The company should have a thorough understanding of the language and terminology used in your religious community.
Consider turnaround time:
Many captioning companies offer fast turnaround times, but be wary of companies that promise to deliver captions within a few hours. Quality captioning takes time and careful attention to detail. Make sure the company you choose has a realistic turnaround time that allows for thorough editing and quality control.
Don't sacrifice accuracy for cost:
While it's important to consider your budget, don't choose a captioning company solely based on cost. Cheap captioning services often use automated speech recognition technology, which can result in inaccurate and nonsensical captions. Make sure the company you choose has experienced human captioners who are dedicated to accuracy and quality.
In addition to these specific tips, there are a few other things to keep in mind when selecting a captioning company. Make sure the company is up-to-date on FCC regulations, has transparent pricing and billing, and provides excellent customer service.
By taking the time to carefully choose a captioning company that meets your needs, you can ensure that your church or ministry's content is accessible, engaging, and impactful for all members of your congregation. If you want to ensure you're not choosing the wrong captioning company, request a quote from us at CaptionLabs.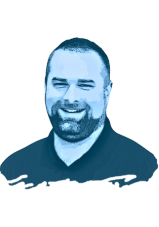 Jake Drown
Jake is our Vice President and oversees our day-to-day operations. Jake thrives on solving our customer's problems - if you're stuck at a roadblock, he's the one you need to call. As a jack-of-all-trades, you never know what you will find Jake doing on the weekends! He and his family are seasoned travelers and can be found anywhere from a mountain top, a forest, a beach, or even a corn field!