The Debate of Human-Generated vs AI-Generated Captions: Which is Right for You?

Captioning is an essential part of digital media, providing an accessible and engaging experience for viewers. When it comes to captioning options, there are two primary choices: Human-Generated vs AI-Generated Captions. In this article, we'll explore the differences between the two, with a focus on their legal, speed, accuracy, and quality aspects.
Legal Considerations
It's important to consider the legal requirements for captioning content, especially in the United States where the Federal Communications Commission (FCC) requires closed captioning for certain types of programming, including live and prerecorded television programs, educational videos funded by the government, videos shown in places of public accommodation, and online video content that was previously broadcast on television with captions. These rules ensure that people with hearing disabilities can access important information, enjoy entertainment, and participate in American society. Failure to comply with FCC regulations can result in fines and legal action, so it's crucial to understand your responsibilities as a content provider.
Speed
AI-generated captions are much faster to produce than human-generated captions, thanks to the algorithms that power them. If you need captions for a large amount of content quickly, AI-generated captions may be the better option. However, the speed of AI-generated captions may come at the cost of accuracy and quality. The algorithms used to generate captions are not yet perfect, and may make mistakes, especially when dealing with accents, technical jargon, or multiple speakers.
Accuracy
Human-generated captions are typically superior to AI-generated captions when it comes to accuracy. A human captioner can pick up on nuances, such as inflections, non-verbal cues, and background noises, that an algorithm may miss. They can also provide additional context that can make it easier to understand the content, such as descriptions of people, places, or objects that are mentioned in the video. This level of accuracy and detail can be particularly important for certain types of content, such as educational materials, news programs, or legal proceedings, where the exact wording and meaning of what is being said is critical.
Quality
Both human-generated and AI-generated captions have their unique qualities. Human-generated captions can provide a more personalized and nuanced experience for viewers thanks to the expertise and attention to detail of the human captioner. Meanwhile, AI-generated captions tend to not always capture the full meaning and context of what is being said and lack the human touch many people are looking for. Ultimately, the choice between human and AI-generated captions depends on your specific needs and goals for your content.
It's important to note that FCC requires that we pick up non-verbal cues and add them to caption for the deaf, making accuracy and quality even more crucial.
Recommendation
Considering the legal requirements, accuracy, and quality of captions, we recommend that for clients who must comply with FCC, human-generated captions should be the preferred choice. Human-generated captions are more accurate and detailed, which can make a huge difference for viewers with hearing disabilities. It's important to note that the accuracy and quality of captions are crucial, especially for clients who must comply with FCC requirements.
At CaptionLabs, we offer a range of captioning solutions that prioritize accuracy and quality, while also leveraging the speed and efficiency of AI-generated captions. We prioritize quality and accuracy in our captioning services, using advanced tools to ensure efficiency without compromising on the final result. Our commitment to accessibility, engagement, and information drives us to deliver captions that meet your standards. If you're looking for high-quality captioning services, CaptionLabs can provide a quote and help you find the best solution for your needs.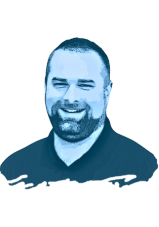 Jake Drown
Jake is our Vice President and oversees our day-to-day operations. Jake thrives on solving our customer's problems - if you're stuck at a roadblock, he's the one you need to call. As a jack-of-all-trades, you never know what you will find Jake doing on the weekends! He and his family are seasoned travelers and can be found anywhere from a mountain top, a forest, a beach, or even a corn field!